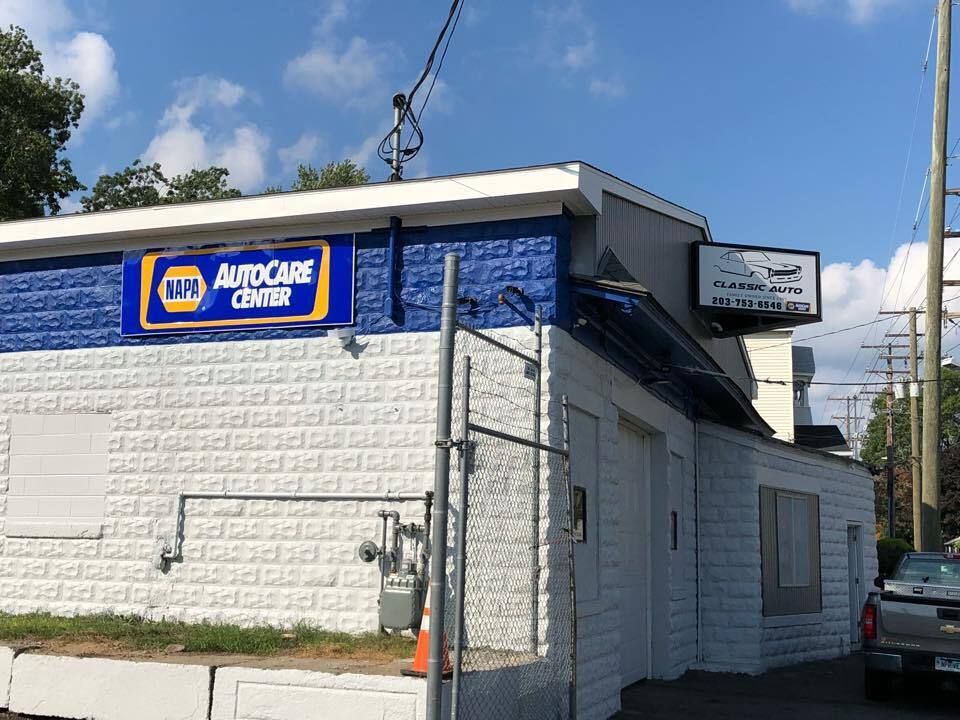 An Auto Repair Shop You Can Trust

Reliable, Honest and Quality Service.

Serving Our  Community and Surrounding Areas for Over 50 years.

Certified NAPA AutoCare Center.

100% Satisfaction Guaranteed.
About Classic Auto
Classic Auto is the trusted name in auto repair and maintenance services for families across Waterbury. Our team is dedicated to providing the best workmanship and customer experience possible, with ASE-certified technicians on staff to service your vehicle.

We have a longstanding history in Waterbury. Our family has been serving the automotive needs of customers throughout the area for over half a century.
Our History
Classic Auto was first established in 1967 by two Waterbury natives who graduated from Kaynor Technical High School.

Fredrick Rollo and Enver "Jake" Jaffer started the locally run business to meet the auto body and auto repair needs of Waterbury, and more specifically, the North End area of Waterbury.

Fred has deep roots in this community. Not only was he raised on Oak Street in the North End of Waterbury, but his family on his mother's side owned Mecca's Restaurant on the corner of North Main Street and West Farms Street for many, many years.
Jake was Fred's partner for fifteen years, when he moved to Arizona for family reasons. Fred then took on Anthony Ceddia as his partner and Anthony remained in that capacity until his death in 2012.
Where We Are Today
Fred, now at the age of 73 and facing some medical issues looked to his family to help continue the business with the same family traditions he established back in 1967. In the summer of 2017, his nephew, Christopher N. Rollo, started to work with Fred to learn how to take over the business so his uncle can slowly retire. The hope is for Fred to participate in and help oversee the business.

With Chris' expertise and business background, he is transitioning the business into a full service NAPA AutoCare Center and used car dealership under the name Classic Auto. Chris endeavors to continue the business and provide the same excellent service and quality work for the people of the North End and all of Greater Waterbury.

The renovation and clean up process of the building that was built in 1921 has already begun, with the installation of new wiring, new lifts, new tools, new tire machines, new efficiency and furnaces to replace old boilers. Multiple dumpsters filled with debris have been removed from the premises. A new roof has been installed, our dirt parking lot has been paved, the old paint booth has been removed and replaced with state of the art 4-wheel alignment system as well as fresh paint on the building to go with our certified NAPA AutoCare Center signs.

Although Classic Auto still has many renovations to complete, we hope that you'll stay along for our journey as we try to post as many updates and phases for our customers, friends, and family to experience with us.
NO ONE DOES CUSTOMER SERVICE LIKE CLASSIC AUTO DOES!